2017 Alumni Awards Winners
Brenau University honored 13 outstanding alumni during the 2017 Alumnae Reunion Weekend on April 7-8. The women – among them a stand-up comic, a senior manager at Coca-Cola, an award-winning film director and a second-generation chiropractor – were recognized for their many personal accomplishments, contributions to their local communities and leadership roles in their chosen professions.
The Young Alumnae Award
Established in 1989 to recognize three Women's College alumnae who have demonstrated outstanding achievements in business, continuing education and leadership.
Danielle Aikens-Holland, WC '03. After earning a B.A. in music from Brenau, Aikens-Holland went on to become the owner and artistic director of the Northeast Georgia School of Music and Dance in Gainesville. A dancer and pianist for more than 30 years, she has undertaken mission trips to countries such as Uganda to teach dancing and has instructed hundreds of students over the last 14 years.
Kayla M. Fritz, WC '13. Fritz is the administrative assistant to the provost and vice president of academic affairs and serves as adjunct faculty coordinator at Brenau, where she received a Bachelor of Business Administration in 2013. A native of Statham, Georgia, she now resides in Winder with her husband, Dean, who she married in 2015.
Melinda Ratcliff Hallam, WC '07. While at Brenau, Hallam earned a Bachelor of Business Administration in marketing and a minor in psychology and was a member of Alpha Gamma Delta. After receiving a doctorate from Sherman College of Chiropractic in Spartanburg, South Carolina – where she graduated magna cum laude and received the Distinguished Service Award – she returned to her hometown of Sevierville, Tennessee, to join her family's practice, Ratcliff Chiropractic. She lives with her husband, Phil, and daughters, Abigail and Roslyn.
Inductees into the Alumni Hall of Fame
The Brenau Alumni Hall of Fame honors alumni from all academic programs who have made an outstanding and lasting contribution to their country, state and community and to Brenau.
Dulce L. Sloan, WC '05. From Stone Mountain, Georgia, Sloan has been performing stand-up comedy for almost seven years in venues across the U.S., including Conan O'Brien's late night variety show, The Comedy Store in Los Angeles, The Laughing Skull in Atlanta and the StandUp NBC comedy showcase in which she received top honors. She also was named the New Face of Comedy in 2015 at the Just for Laughs festival in Montreal, Canada. To read more about Sloan's career in comedy, read the Brenau Window article "Killin' it in Comedy".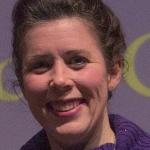 Amanda Miller Buono, WC '99. Buono is an instructor in Brenau's School of Occupational Therapy and has a bachelor's and master's in occupational therapy from Brenau. She is board certified in pediatrics from the American Occupational Therapy Association. Buono and her husband, Chris, are the proud parents of three young children. She is active in her church and frequently participates in volunteer work.
Kelley Ann Emrey, BU '06. Emrey earned her Bachelor of Science in Business Administration in management from Western Carolina University in 1996 before receiving a master's in organizational development from Brenau. She has worked as an account manager at Momentum Worldwide and Origen Consumer Marketing, and in 2011 became the senior customer marketing manager at the Coca-Cola Company. She is now Coca-Cola's senior manager of channel planning and development, while also being owner of Gypsy Paws, a dog daycare and groomer in Gainesville.
Holley J. Kelley, WC '87, BU '13. Kelley of Toney, Alabama, is the author of Sunrises and Sunsets: Final Affairs Forged with Flair, Finesse, and FUNctionality, published by Robert D. Reed Publishers in 2016. The book was her capstone project for earning her Master in Applied Gerontology, and she earned her bachelor's in journalism at Brenau as well. She is a Credentialed Professional Gerontologist and hosts workshops on later-life issues and advanced-care planning. To learn more about Kelley and her book, read the Brenau Window article "Death Wrangler".
Dr. Dana Boyd Barr, WC '87. Barr is a research professor in the Rollins School of Public Health at Emory University. She works in the environmental health department and has mentored students in study abroad opportunities to places like Ecuador and Colombia. During her Brenau career, she earned a bachelor's in biology, was a member of Alpha Chi Omega and the HGH Honors Society, served as the Brenau Fellowship Association President and received the Mary Mildred Sullivan Award. To learn more about Barr, read the Brenau Window article "The 'Very' Quotable Dr. Dana Barr".
Gay Hobgood Hammond, WC '82. Hammond, assistant professor of theater at Brenau since 1994 and director of the theater for young audiences WonderQuest since 2002, earned bachelor's degrees in theater and English from Brenau. She received a master's in theater arts and speech from the University of Louisville in 1984 and a master's in playwriting and screenwriting from Spaulding University in 2012. She is also a founder and playwright for New Classic Plays, a venue that offers original plays for production to professional and educational theatre companies.
The Alumna Professional Achievement Award winner is Catherine Anne (KT) Curran, WC '89. A native of Sarasota, Florida, Curran earned her bachelor's in theater from Brenau and is now an award-winning playwright and film director for SOURCE Productions. She directed, edited and wrote movie shorts such as Boost, When the Party Ends and the soon-to-be-released The First Time Club. Eleven of Curran's 25 plays and screenplays are nationally published and performed by groups across the United States. She also serves as a national consultant to groups around the country that are interested in doing educational youth theater and film.
Cynthia Fuller Jackson, WC '86, is this year's Alumna Community Service Award winner. The Alpharetta, Georgia, resident earned her bachelor's in criminal justice and psychology and is pursuing graduate work at Brenau in public administration. An IT account manager at Georgia Pacific since 2008, she served from 2012-2015 as an advisor at Clayton State University for Women in Technology, an organization that helps women focusing on science, technology, engineering and mathematics careers and provides scholarships for young women. Fuller Jackson helped Brenau establish a WIT campus chapter in January 2016.
The Service to Brenau Award was given to Marsha Ann Stringer, WC '96, BU '03, BU '05. She is the current president of Brenau's Alumni Association, and a nurse practitioner at the Longstreet Clinic in Gainesville since 2014. She is affiliated with the Georgia Faith Community Nurses Association, and the United Advanced Practice Nurses of Georgia. Stringer was also a recipient of the Young Alumna Award in 2006.
Susan Little Bazemore, A '60, is this year's Academy Alumna of the Year Award winner. She is the daughter of Celestine Sibley, a well-known journalist for the Atlanta Journal Constitution. Susan is a retired private piano teacher is married to husband Edward. They are the parents of Susan Sibley (Brenau graduate, A '91), Ted and John.