From horses to pools, Walker Therapy uses a variety of techniques to help children
About 15 years ago, Brenau alumna Nicole Walker went into business with a couple of her old classmates to provide an unusual form of therapy for children in North Georgia. Today, Walker Therapy is a multicounty operation providing equine-based therapy, aquatic therapy and classic, clinical, physical and occupational therapy to children in need.
Emily Moss, BU' 16, supports her 10-year-old client with the help of a bright blue pool noodle.
"Look at me if you want to go fast," says the occupational therapist at Walker Therapy. Her client kicks her legs underwater, turns her head sharply to the right and grins.
They aren't just having fun. Moss' client has a developmental disability, and the aquatic therapy she receives from Moss helps her with balance, mobility and cognitive ability.
Moss is one of five occupational therapists working at Walker Therapy who graduated from Brenau University's School of Occupational Therapy. Walker Therapy, located in Gainesville, Georgia, along the Hall County and Forsyth County line, provides a variety of therapies for its clients.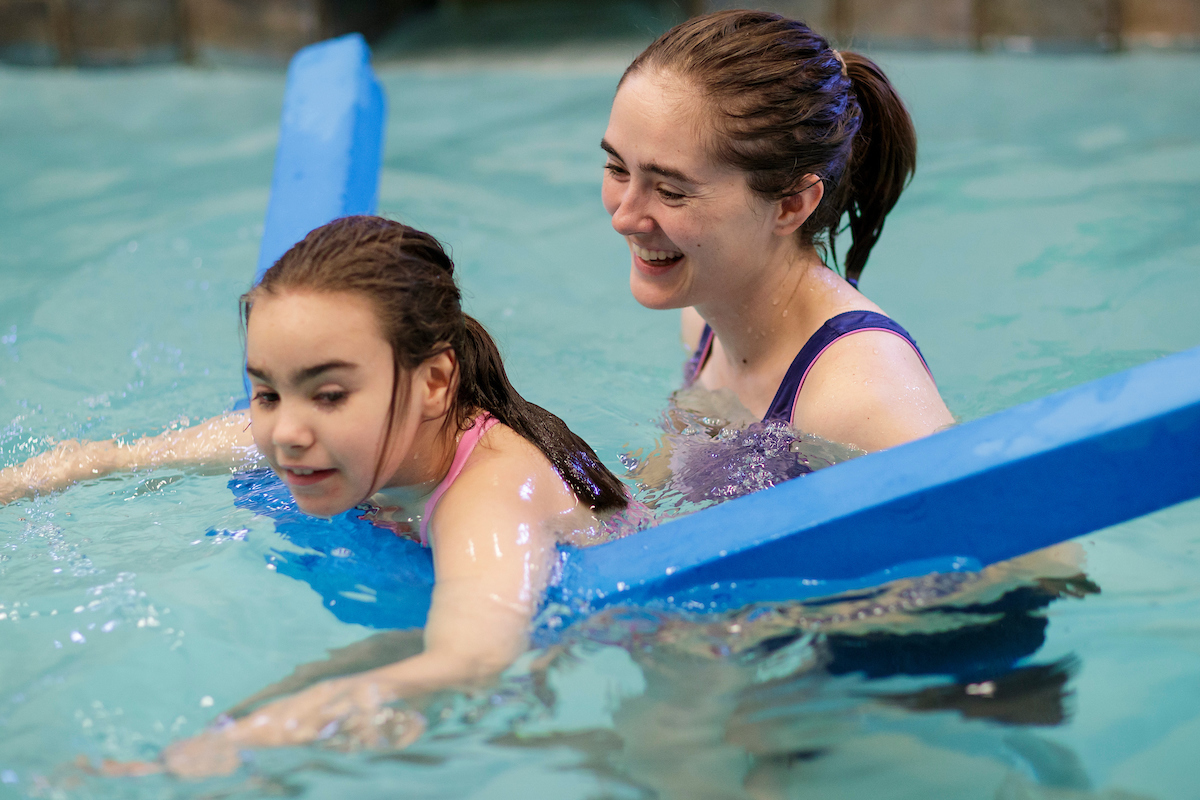 These occupational therapies include aquatic therapy in the facility's heated pool, equine-based therapy with Walker's horses in the indoor barn and classic therapy in a clinic setting. The center also provides speech therapy and physical therapy from certified specialists.
"I started here more than five years ago as a volunteer horse handler," says Moss, who has worked as the equine operations coordinator, the volunteer coordinator and now as the student coordinator. "I coordinate all the different field work students, and we regularly take occupational therapy students from Brenau, and physical therapy students and speech students as well."
The business is well-entwined with Brenau after being founded by Nicole Walker, BU '01. After working a few years in a variety of occupational therapy settings, Walker in 2003 partnered with Sunny Farms in Dahlonega, Georgia – where she reunited with her old classmate Nolina Varley, BU '01 – to create a part-time hippotherapy program.
"I do some of the hippotherapy, some aquatic therapy and some clinic treatment," says Varley. "As occupational therapists, we work on daily function and activities of daily living. So if a child has any deficit in those areas, we help them out to get them moving, working or doing play activities in a way that facilitates their daily life."
A helping hoof
After Varley helped Walker start the program at Sunny Farms, they decided to expand to the new facility with the covered barn and clinical space. The business has grown dramatically since, and Moss is now helping Walker expand the hippotherapy program to another facility in Dahlonega. They are looking for land in the area to build a full facility like the one in Gainesville.
"I chose the horses for it and trained the horse handlers for it," Moss says. "It's going really well."
Walker says there is a distinction between equine-assisted therapy and hippotherapy. Walker Therapy does a bit of both.
"Hippotherapy is technically using the movement of the horse," she explains. "Equine-assisted therapy is anything that uses the horse as a therapeutic tool. A lot of times in OT we're working with the upper body. So we do a lot of upper extremity coordination such as resistance with reining, or perhaps brushing or braiding the horse's mane. That would be considered equine-assisted therapy."
Varley said not only can the therapists use the motion of the horse to help with posture, stability and muscle control, but the children often form emotional connections with the horses, which is both therapeutic and motivating. Meanwhile the barn provides an environment that might require some therapeutic adaptation for the children.
Walker also specializes in feeding, eating and swallowing and works with children who have any type of feeding disorder. "It could be somebody with cerebral palsy who has motor coordination issues, or it may be infants that are premature," she says. She even works with picky eaters who aren't progressing in their eating stages.
Anna Weatherford, BU '13, works often with children in the clinical setting. Walker Therapy has grown so much, they added a trailer with three rooms decorated and structured much like small classrooms. It is in one that Weatherford helps a young girl with a developmental disability practice spelling with the use of a jigsaw puzzle. "She's progressing really well since we started OT," Weatherford says. "Some of the progression is slow, but I've seen kids who were not even talking begin to use words, make eye contact and communicate better."
Pool therapy
The heated, indoor pool provides what Varley calls "proprioceptive pressure." Proprioception is the sense and awareness of the body's orientation in space, detected by sensory receptors in muscles, ligaments and joints. "The pool is an environment that allows you to work a lot more on sensory regulation and adaptation. A lot of kids with cerebral palsy or any conditions that have muscular contractures find, especially because the pool is heated, it really helps out in those areas," Varley says.
Each therapist sees one client at a time but has as many as 25 on their weekly schedules. Walker says clients usually have one-on-one hourly sessions, which can be shorter depending on the client's needs that day. The type of therapy the client receives each day depends on what the therapist thinks would be most beneficial for each individual.
When asked what they love most about their jobs, Moss, Varley and Jennifer Fuqua, BU '02, have the same answer: the variety.
"This is such a unique place," Fuqua says. "We have so many opportunities here to work with children in not just traditional therapy. That's one thing I really, really enjoy. It's such a rare opportunity for us and for the children."